Marker Squire 11 ID Ski Bindings 2018
Marker
SKU:
MK1004-18
Availability:
Please let us know the brake size you would like in the order comments during checkout!
Marker Squire 11 ID Ski Bindings 2018
Please indicate if you would like 90mm or 110mm brakes above.
Marker introduced Sole.ID binding technology in 2017, which finally allowed alpine touring-soled boots to be used with alpine bindings in a safe manner, and for 2018 they've built this versatility into the Marker Squire 11 ID Ski Bindings. Good news for skiers who wish to use an AT boot for all their skiing, or those who own more than one set of boots with different sole configurations, the Squire 11 ID retains all the great Marker features you've grown to love - light weight, reliability, and optimal energy transmission are still the name of the game, only now they work with a wider selection of boots.
Features
AFD Gliding Plates: All Marker bindings are equipped with a moveable AFD (anti friction device), allowing a precise release, unhindered by dirt, snow and ice buildup. The type of AFD is matched to the skier type, ensuring perfect functionality – from racing to junior bindings and even ski touring.

Hollow Linkage Heel: The Hollow Linkage Heel features a hollow horizontal axle that saves weight and maximizes power transmission, creating a light weight product with phenomenal power transmission.

Triple Pivot Light Toe: This compact design features a horizontally oriented spring. The Triple Pivot Light toe offers a unique combination of light weight and solid power transmission.



Sole.ID – Marker Sole.ID allows Marker Authorized Retailers to adjust Sole ID equipped bindings to both ISO 5355 (Alpine) and ISO 9523 (AT) boot sole norms.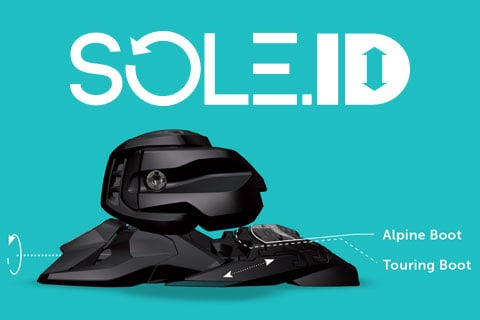 Specs
| | |
| --- | --- |
| Boot Sole Compatability | ISO 5355 (Alpine) |
| DIN Range | 3.0 – 11.0 |
| Recom. Skier's Weight | 65 – 240 lbs. |
| Stand Height w/o Ski | 22 mm |
| Toe System | Triple Pivot Light |
| Gliding AFD | Stainless Steel, Height Adjustable |
| Step-In Heel | Hollow Linkage |
| Color Combinations | White (C1) |
| | Red (C2) |
| | Black(C3) |
| | |
| Weight (Pair) | 1530 g (90), 1540 g (110 |