Volkl Ledge Skis 2012
Volkl
SKU:
SK9276-12
Availability:
This product is sold out. Please search again for more current model.
Volkl Ledge Skis 2012

Comes with a FREE Ski DVD and FREE USA Shipping!!!

Built for the park skier who needs a ski that can go anywhere on any hill. The Ledge features a symmetrical shape that rides equally well switch or forward, as well as a soft jib zone in the forebody. For the rider who wants a ski that is great in the park and performs well all over the mountain.

LENGTH RADIUS SIDECUT
162cm 16.9 111-84-111
169cm 18.8 111-84-111
176cm 20.9 111-84-111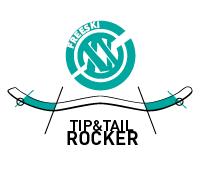 Symmetrical Sidecut

The symmetrical sidecut allows the park and pipe rider the best possible performance by allowing a center-mounted ski to perform the same while riding switch or forward. It also allows completely even balance for rail slides.

Multi-Layer Wood Core
Völkl freeskiing models feature a multi-layer wood core with two different densities of wood.
In the binding attachment area, a dense, ash core is used, while in the rest of the ski, the core is poplar.
The more dense wood creates secure screw retention and stability, while the softer poplar section allows
for resilience and snap. The flex pattern can be tailored to each ski model to match the desired performance
characteristics.

Tough Box Construction
Tough Box construction features a Multi-Layer wood core wrapped with a composite/fiberglass sheath to create the ultimate resilience and snap for our freeskiing models.Surrounding the core in the mid-body of the ski, it adds snap, strength and binding screw retention.

Sensorwood Core
Like the Extended Sensorwood Core, the Sensorwood core is CNC milled using vertically laminated poplar and beech wood.
Powered by Carbon
Many of Völkl's freeskiing skis feature a carbon fiber layer within the core that adds stability, liveliness, and snap to each model.
Reviews
Great Skis. Graphics could be a little better, but the ski runs great. Good on jumps, rails i.e. anything in the park. It also can go anywhere on the mountain including powder. Solid ski. 4.5 out of 5

great ski very light, good pop, and durible. i would rate these skis a 4 out of 5 stars because the graphics are a bit girly.