Sorel Ella II Slingback Women's Sandals 2023
An easy-to-rock slingback with style that leaves a lasting impression. Features an all full-grain leather or full-grain leather and metallic combination upper, adjustable slingback strap and a soft foam footbed. The durable rubber outsole provides traction and stability, making this sandal perfect for all-day wear.
Features
UPPER: Available in full grain leather, or full grain leather and metallic combination. Hook and loop closure for an easy, adjustable fit. Synthetic lining.

FOOTBED: EVA foam footbed construction with 3D heel cushion. Synthetic topcover.

OUTSOLE: Molded rubber outsole.

PLATFORM HEIGHT: 3/4 in.
Size Guide
1. Place your feet flat on a piece of paper and mark your longest toe and the back of your foot. It's best to do this standing and wearing socks.
2. Measure the length straight from your longest toe to the back of your foot using a ruler or measuring tape.
3. Use the chart to find your size.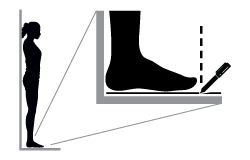 | US | EU | UK | FOOT LENGTH (CM) |
| --- | --- | --- | --- |
| 5 | 36 | 3 | 21.8-22.1 |
| 5.5 | 36.5 | 3.5 | 22.1-22.6 |
| 6 | 37 | 4 | 22.6-23.1 |
| 6.5 | 37.5 | 4.5 | 23.1-23.6 |
| 7 | 38 | 5 | 23.6-23.9 |
| 7.5 | 38.5 | 5.5 | 23.9-24.4 |
| 8 | 39 | 6 | 24.4-24.6 |
| 8.5 | 39.5 | 6.5 | 24.6-25.1 |
| 9 | 40 | 7 | 25.1-25.7 |
| 9.5 | 40.5 | 7.5 | 25.7-25.9 |
| 10 | 41 | 8 | 25.9-26.4 |
| 10.5 | 41.5 | 8.5 | 26.4-26.9 |
| 11 | 42 | 9 | 26.9-27.2 |
| 12 | 43 | 10 | 27.7-28.2 |
| US | EU | UK | FOOT LENGTH (IN) |
| --- | --- | --- | --- |
| 5 | 36 | 3 | 8.6-8.7 |
| 5.5 | 36.5 | 3.5 | 8.7-8.9 |
| 6 | 37 | 4 | 8.9-9.1 |
| 6.5 | 37.5 | 4.5 | 9.1-9.3 |
| 7 | 38 | 5 | 9.3-9.4 |
| 7.5 | 38.5 | 5.5 | 9.4-9.6 |
| 8 | 39 | 6 | 9.6-9.7 |
| 8.5 | 39.5 | 6.5 | 9.7-9.9 |
| 9 | 40 | 7 | 9.9-10.1 |
| 9.5 | 40.5 | 7.5 | 10.1-10.2 |
| 10 | 41 | 8 | 10.2-10.4 |
| 10.5 | 41.5 | 8.5 | 10.4-10.6 |
| 11 | 42 | 9 | 10.6-10.7 |
| 12 | 43 | 10 | 10.9-11.1 |