Armada TST Skis 2012
Armada
SKU:
ARtts-12
Availability:
This product is sold out. Please search again for more current model.
Armada TST Skis 2012

Comes with a FREE Armada Beanie and FREE USA Shipping!!!

When Travis Steeger's "Sponsor Me" video made the rounds in the office at Armada, it was met with unanimous acclaim. It stars a skier with undeniable skill, an ear to ear smile, and contagious love for skiing and snow. Watching it provides the viewer with a palpable connection to travis, his love of skiing, and his desire to explore the mountains and make turns wherever possible. Travis was only starting this exploration in skiing when his life was tragically cut short. Yet in this minimal time his energy and desire to explore helped shape this ski.
The TST is an all-mountain/big-mountain tool designed to let you explore the entire mountain; air the biggest cliffs, ski the deepest pow, and straight-line the steepest lines. With Armada's Patented EST All Mountian Rocker that boasts a progressive tip rocker and no tail rocker, there isn't a turn or jump on the mountain the TST can't make. This is the ski Travis was asking us to make for his every day ski as his home mountain of Whitewater BC. So next time you find yourself in the middle of a great day, or on a perfect run, or are just surrounded by all your friends; un-zip your coat, smile from ear to ear, and giv'er for Travis.
A portion of the proceeds of this ski are donated to Travis Steeger's Memorial Fund and the "Avalanche Awareness Beyond the Boundaries Society", which provides free avalanche skills training courses for youth.

Tech Features
AR50 Sidewall
Hybrid UltraLight Core
EST All Mtn Rocker
50/50 Base
CK Stringer
Laminate Matrix
1.7 Impact Edge


Flex Chart: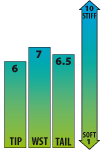 Comfort Zone:

Dimensions:
120-133-103-124 @ 192cm, 18.9m

119-132-102-123 @ 183cm, 16.8m

118-131-101-122 @ 174cm, 14.7m

117-130-100-121 @ 165cm, 12.6m

116-129-99-120 @ 156cm, 11.5m

Technology:
CK STRINGER
A blend of Carbon/Kevlar stringers that run along the tail of the skis to help stabilize it. This creates a better landing platform, especially when your weight is further back than intended. It also increases snap and adds pop to ollies
HYBRID ULTRALIGHT CORE
Using select 375kg/m3 wood stringers that have unusually high strength-to-weight ratios, UltraLight cores allow our widest skis to maintain a light-yet-stable feel.
AR50 SIDEWALL
ABS sidewall meets cap construction – the best of both worlds. This engineering method combines the lightweight cap construction in the tip and tail with ABS sidewall underfoot, resulting in enhanced edgehold and significantly lower swing and overall weight
1.7 Edge
The edge height and width is deliberately smaller and the steel is heat-treated to a proprietary hardness to increase durability and decrease weight.
Laminate Matrix
We know from the core out exactly how each ski should react, so three kinds of fiberglass laminates are used in combination to deliver the exact amount of flex and torsional rigidity. Bi-axial fiberglass runs in an "x" pattern down the ski to control lateral flex. Uni-directional fiberglass controls flex along the length of the ski. And tri-axial fiberglass, with fibers running in three directions, beefs up the center of the ski. The permutations of the three fiberglasses are nearly limitless and allow us to precision tune the performance of every ski we make
50/50 Base
As the name implies, the 50/50 is faster than the S7 and more rugged than the Comp Series.