Armada ARVw 165cm Skis 2012
Armada
SKU:
ARvws-12
Availability:
This product is sold out. Please search again for more current model.
Armada ARVw Skis 165cm 2012

Comes with a FREE Ski DVD and FREE USA Shipping!!!
Complete. The ARVw is our women's specific version of the ARV with the specs tweaked to make a comfy all mountain ride for the ladies. Stable, reliable, and lively edge to edge, the ARVw will keep you shredding all day long.

Flex Chart: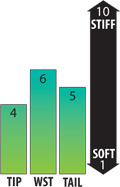 Comfort Zone:

Dimensions:
165cm
120-89-109
19m
Technology:
2.5 Edge
This edge has an oversized height and width and the steel is heat-treated to a proprietary hardness which helps resist breaking and tearing out from rails, ledges and any other abuse it might meet.
Laminate Matrix
We know from the core out exactly how each ski should react, so three kinds of fiberglass laminates are used in combination to deliver the exact amount of flex and torsional rigidity. Bi-axial fiberglass runs in an "x" pattern down the ski to control lateral flex. Uni-directional fiberglass controls flex along the length of the ski. And tri-axial fiberglass, with fibers running in three directions, beefs up the center of the ski. The permutations of the three fiberglasses are nearly limitless and allow us to precision tune the performance of every ski we make.
50/50 Base
As the name implies, the 50/50 is faster than the S7 and more rugged than the Comp Series.
Positive Camber
Traditional camber engages the tip and tail of the ski, enhancing ease of entry and exit into and out of a turn, while maintaining solid edge hold.
UltraLight Core
Using select 375kg/m3 wood stringers that have unusually high strength-to-weight ratios, UltraLight cores allow our widest skis to maintain a light-yet-stable feel.
ABS Sidewall

Two strips of ABS material lie directly alongside the core and over the ski's edges, providing solid edge hold, core protection, and stability.